There are many kids today, who are taking up shooting as a career option. Shooters have become more popular of late. It requires as much dedication and hard works as any other sport. Another thing that plays a key role in building a shooter is his equipment. One of the most common guns that kids use to begin their career in shooting is air rifles. While in the earlier days getting an air rifle was not big deal, things have changed now. Today air rifles come with a host of different features at different prices. Thus making the job of choosing an appropriate air rifle is much more difficult than before. In this article, we would be discussing some of the things that a beginner needs to check before buying an air rifle and also we will be providing air rifle reviews of two of the best air rifles of recent times.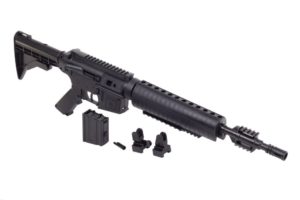 Things that beginners need to check while buying a new air rifle.
Accuracy: this is one of the most important things to look for any kind of gun. It helps you to hit the target. Often an air rifle with bad accuracy can demotivate beginners.
Power: For beginners it is very important to buy an air rifle which is suitable to you. You should not get carried away and buy an air rifle which is more powerful than needed.
Pellets: You should buy an air rifle that uses the pellets as per the requirements. You should remember than not all pellets fit into all guns.
Top Picks for Beginners
Following are air rifle reviews of two products which are suitable for beginners
Crosman M4-177 Pneumatic Pump Air Rifle .177
            This is a very handy gun to start off with as this can shoot both bullets and BBs. With this you can shoot 5 shots very quickly after which you would need a refill. It is also possible to customize this air rifle thanks to its accessory rails. It is a lot of fun to shoot with this gun and it specializes target shooting.
Hammerli 850 Air Magnum Air Rifle
This is as close to real gun as you can go with air rifles. These are big and heavy guns are there, which gives you the real gun like feeling. One thing to remember is that it must be used with an 88gm CO2 cylinder.