A perfect garage is a dream obsession for one car lover dies for. You need a quiet and cool place around your home to repair the things related your car or you just want to spend some time with your dream car. Sometimes, your complex garage projects need some more place and verity of tools or an upgraded workshop. But your confined backyard place does not serve all these purposes. All the required projects may take a longer time to carry out. To accomplish all these requirements you need to sketch a suitable plan for your dream garage. Here we will talk about 8 tips for creating your dream garage or workshop.
A metal garage or Quonset hut:
A metal garage provides you more space and more comfort to take control all of your projects. The Quonset hut has the simple and effective design. You need to assign 13"-15" area per car.
The workbench is the center of the garage just like the heart. You need a strong and stable workbench for the best performance. The size may vary from an individual to another.
You have to consider the effective workspace design with a triangle. The most important workstations should be placed at the 3 corners of this triangle.
Corner 1: most frequent used appliances may be placed at this corner so you no need to drag heavy apparatus around to work.
Corner 2: you may place your workbench here in this corner. This is the most important corner of the workshop.
Corner 3: your smaller required works can be done here in details.
This triangle structure makes your garage perfect and you don't have to look for the required tool exactly where they were placed initially.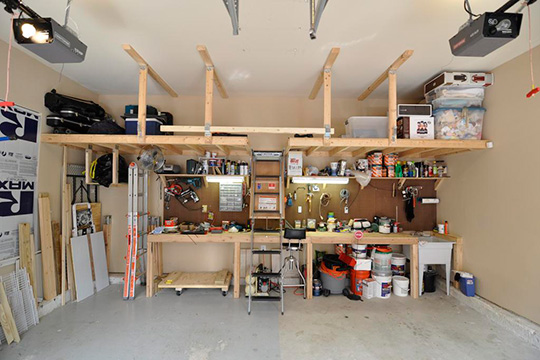 If you maintain the initial placement of your storage that will be easier to find the right tool at the right time. The equipment and tools are the huge and the most important investment for your workshop.
You have to design scientifically for the windows at your garage. Because you need sufficient light to work on your cars.
You have to make provision for the electric lights. LED lamps are brighter than the traditional bulbs. These are energy saving also.
If you add insulation to your Quonset you can continue your project during the chilled days and also in the scorching heat. Controlled temperature helps you to continue your work on.
If you want to use some of the parts of your garage as the storage you have to maintain a separate zone for this.
Now, these are the 8 tips for creating your dream garage or workshop.